The United Nations Office at Geneva is a centre of multilateral diplomacy that provides a dynamic platform for collaboration, dialogue and action on global priorities. It is the representative office of the Secretary-General in Switzerland and the second largest UN duty station, with more than 1,500 staff representing close to 120 nationalities.
Serving as a focal point for multilateral diplomacy, UN Geneva provides services to more than 12,000 meetings every year, with nearly 128,000 delegates and visitors annually at the Palais des Nations.
Accreditation and Registration
Delegates must register in advance through the secretariat of the conference to which they have been invited. Security identification badges are delivered upon provision of an accreditation request duly approved by the secretariat of the conference. For long duration badges, please contact the secretariat of the meeting.
Delegates may collect their security identification badges at the Pass and Identification Unit at the following address:
Pass and Identification Unit
Operating hours: Monday to Friday from 8 a.m. to 4:45 p.m.
Pregny Gate, Building F 
8 - 14 avenue de la Paix
1211 Geneva 10
Tel: +41 (0) 22 917 50 02
Fax: + 41 (0) 22 917 04 94
Email: Identification.security-unog@un.org
UN Staff members can renew ground pass at the Client Support Centre (CSC) located at the building H
Monday, Wednesday and Friday from 10 a.m. to 4 p.m.
UN Staff members and Consultants can announce visitors via the Visitor Announcement Page
Access and Security
Entry Intro Palais des Nations
Delegates should enter the Palais through the Pregny Gate entrance. In order to obtain an identity badge from the Security Services, delegates will be asked to present a valid passport or a national identity card. Badges are strictly for individual personal use.
Accessibility at the Palais des Nations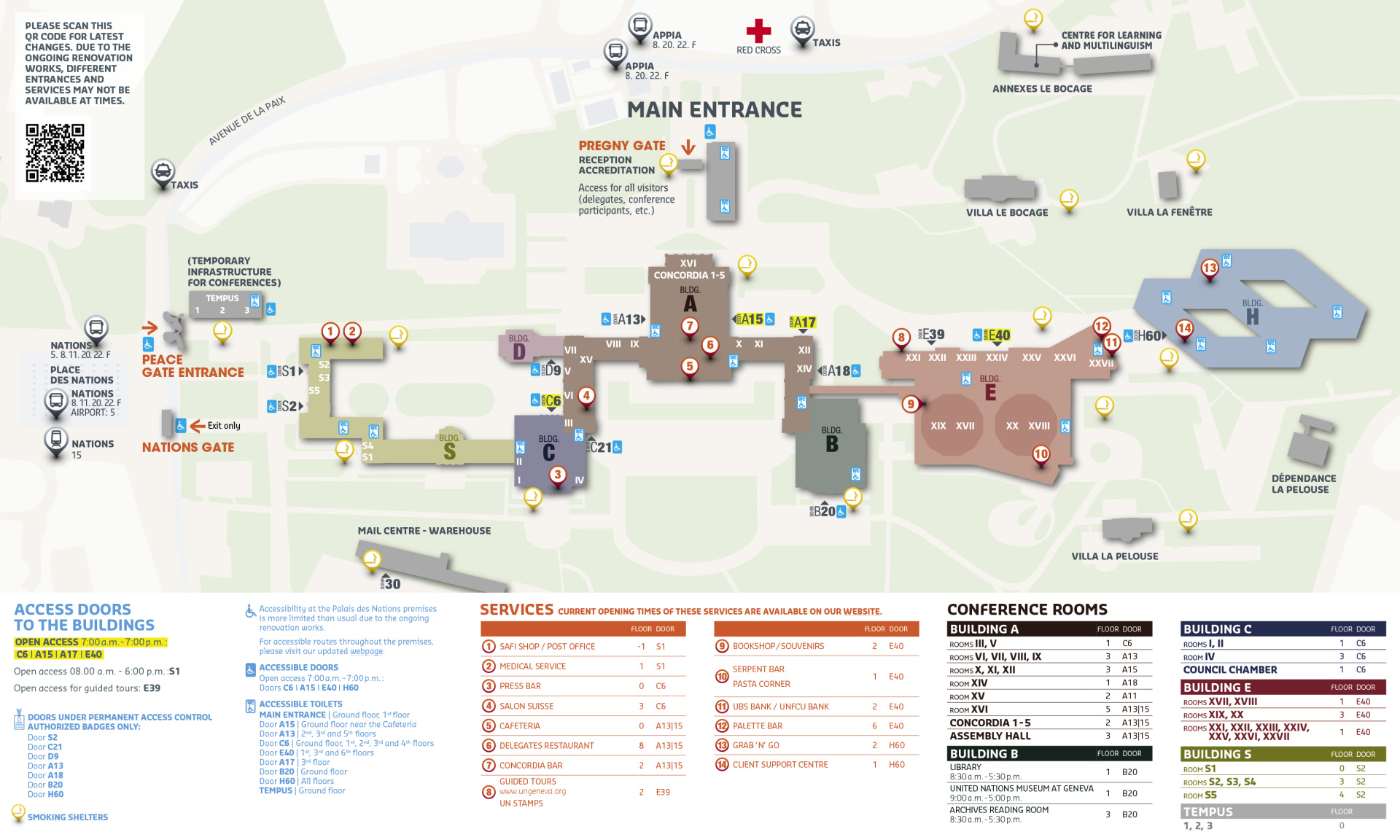 Access Doors
To the Palais des Nations:
Conference participants
Conference participants are to register on the Indico.UN platform prior to attending the respective meeting or conference.

First time entry for conference participants is through Pregny Gate from 8 a.m. to 5 p.m on weekdays only upon which they will be issued with a paper conference badge. Thereafter, the paper conference badge permits access through the Pregny and Peace Gate subject to security screening.
Visitors
Visitors coming for a guided tour: please follow the guidelines on the Visits Page.
All other visitors are to be announced by their host in the Visitor Announcement Page.
Entry for visitors is possible at Pregny Gate and Peace Gate from 8 a.m. to 5 p.m. upon which visitors will obtain a magnetic day badge after passing through security screening.
All visitors must carry a valid passport (UN Member or Observer State). ID cards from the Schengen Zone are also accepted.
To the buildings within the Palais des Nations:
Access to most doors at the Palais des Nations is secured by a centralized access security system and can only be opened by means of a magnetic United Nations grounds pass issued to authorized users. Only public doors will be accessible without a magnetic ground pass from 7 a.m. to 7 p.m. on weekdays to enable access to visitors and conference participants.
Public Doors:
---
Annexe Bocage (CLM): Open 7 a.m. - 7 p.m
---
Tempus (Conference Rooms Tempus 1-3): Open 7 a.m. - 7 p.m                    
---
E40 (Conference Rooms XVII – XXVII): Open 7 a.m. - 7 p.m                    
---
S1 (JMS, SAFI, UNDT): Open 8 a.m. - 6 p.m                     
---
E39: (Guided Tours Service): Open 10 a.m. – 12 p.m. and 2 p.m. – 4 p.m.
---
All other building doors are under Electronic Access Control and require a magnetic badge for access, including building H via door H60 (Plaza) and the tunnel (link E-H).
Exit
Exit of the building after 7 p.m. on weekdays:
Door E40 has a release button that can be activated after 7 p.m.
Exit through the gates:
Nations gate and Pregny gate have free flow pedestrian exit at the turnstiles, no electronic badge is required. Visitors will leave their magnetic day pass in the receptacle provided for this purpose during their last visit, to exit via the dedicated turnstile.
Exit with a bike:
Visitors and conference participants cannot come into the Palais des Nations with a bicycle.
Security
Due to certain conditions delays are common and delegates are required to queue for entry.
Visitors must enter at the Pregny Gate.
Valid identity documents are required for each visitor.
Visiting UN Geneva
Map of the Palais des Nations
Security
Baggage Allowance
Delegates are only allowed to enter the Palais with what is considered as carry-on luggage, e.g. computer bags, rucksacks and hand bags. There is no luggage storage available at the Palais. Delegates remain responsible for the luggage they bring to the Palais throughout their stay.