Welcome to the United Nations
Take a tour of the Palais des Nations and learn about the United Nations and the UN's work in Geneva. Our tour guides will inform you about the organization and its activities to maintain world peace, foster international relations and development.
You will discover the Palais des Nations, a unique building, formerly the headquarters of the League of Nations. The Palais des Nations, an outstanding testimony to twentieth century architecture, is situated in the beautiful Ariana park in Geneva, Switzerland. 
Due to the COVID-19 pandemic and ongoing renovations in the Palais des Nations, our tour offers are limited and subject to changes. Please read the below information carefully and check this page regularly for updates. 
Please note: Visitors are kindly requested to wear masks on the compound of the Palais des Nations.
Important Information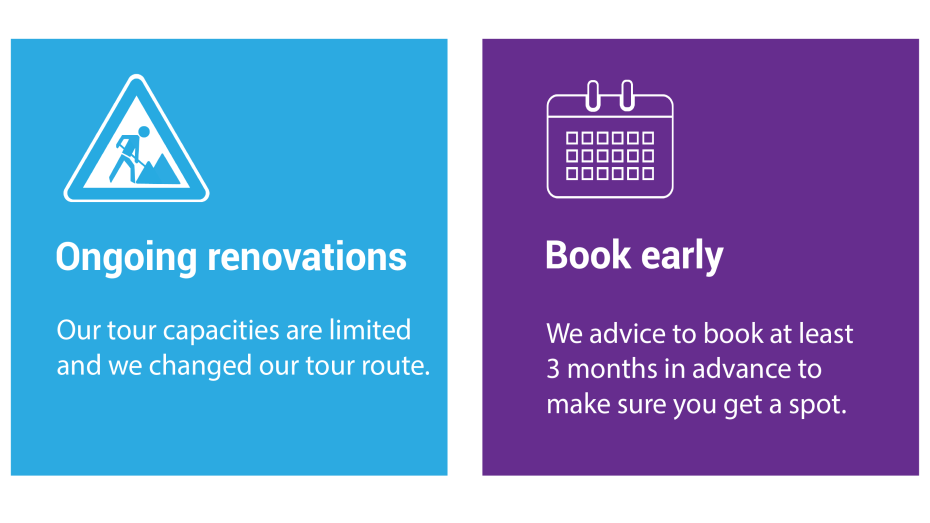 Before the tour
Once you have your ticket(s)
As soon as you receive your ticket(s), every person in your group needs to register for an access badge. Your will receive your access badge upon arrival at the Palais des Nations on the day of your tour. Please register as soon as you receive your ticket(s) on Indico, our online registration system.  
On the tour day
All visitors must carry a valid passport (UN Member or Observer State). ID cards from the Schengen Zone are also accepted. Passports or ID cards will be checked at the entrance gate (Pregny Gate).

Please be at the Pregny Gate 45 minutes before your tour to allow time for security screening and transfer to the Visitors'

Center.

 
About the Tours
Duration
The guided tour lasts for approximately one hour.
Languages
Groups can reserve a tour in numerous languages, including Bulgarian, Chinese, Czech, Dutch, English, French, German (and Swiss German), Greek, Italian, Portuguese, Romanian, Russian, Spanish and Slovak. 
Tour Fees
Adults (Ages 18+): 16 CHF
University students, senior citizens and disabled persons (University students must show valid student ID): 13 CHF
School Children and Youth (Aged 6 to 17): 10 CHF
Teachers (For every 10 school children booked, - 1 teacher is free. Extra teachers should be booked as adults): Free
Private VIP Tour: 280 CHF
Highlights
The Human Rights and Alliance of Civilizations Room, decorated by famous artist Miquel Barcelò.
The library of the Palais des Nations and the UN Museum.
Part of the Ariana Park and the monument commemorating the conquest of outer space.
A film about the history and features of the Assembly Hall, the largest room in the Palais des Nations.
The plaza and entrance of our new state-of the-art and sustainable Building H.
You will discover the Sustainable Development Goals.
You will learn how a conference works at the United Nations.
Contact
Visitors Entrance
Palais des Nations - Pregny Gate
14 Avenue de la Paix
1211 Genève, Suisse
+41 (0)22 917 48 96
visit-gva@un.org
Directions
Enter the Palais des Nations through the Visitor's entrance at Pregny Gate, on 14 avenue de la Paix, 1211 Geneva in front of the International Committee of the Red Cross building and next to the Geneva Hotel School (please see map here). 
Please arrive 45 minutes before your tour.
Transports Publics Genevois
Palais des Nations transit stops are Appia and Nations.
Access from Cornavin railway station:
Bus lines 20, F ("Appia" stop)
Bus line 5 or tram line 15 ("Nations" stop), then a 5 minutes' walk to Pregny Gate
Access from Cointrin airport:
Bus line 5 ("Nations" stop) then a 5 minutes' walk to Pregny Gate.
Other bus lines with stop at "Nations": 11 and 22.
In Geneva, unireso public-transport tickets must be purchased prior to boarding a tram, bus or ferry. Ticket machines are available at most stops. Travel cards or passes can be purchased at the main TPG centres (Rive, Cornavin and Bachet de Pesay) and at newsstands (including at the "Naville" kiosk in the Palais). Please note tickets are not available on the bus itself. Hotels, youth hostels or campsites typically offer a Geneva Transport Card, which allows use of public transport in Geneva free of charge during the period of stay.
Unfortunately, visitors are not allowed to park inside the premises of the Palais des Nations. A large underground parking is available at the Place des Nations, next to the United Nations, and can be accessed via Rue de Varembé.