When the League of Nations was dissolved in 1946, the Palais des Nations and its other assets were transferred to the United Nations. In homage to its predecessor, in 1947, the League of Nations Museum was established to showcase most of the League's documents and artefacts.
Renamed as the UN Museum Geneva in 2015, the space now highlights the history of the League of Nations and the United Nations. The Museum has regular exhibits featuring documents, artworks, books, and other artefacts from UN Geneva's historical collections, as well as those borrowed from other institutions and private collections.
Exhibition: "100 Years of Multilateralism in Geneva"
The United Nations Office at Geneva collaborated with the Martin Bodmer Foundation and the International Committee of the Red Cross to bring three exhibitions to the city of Geneva in the framework of the Centenary of multilateralism.
Entitled "100 Years of Multilateralism in Geneva", this exhibition presents unique documents from the UN archives, the UN system, and private collections. The exhibition explores the evolution of the multilateral system since the creation of the League of Nations to the work of the United Nations today.
It outlines the contours of multilateralism and highlights the exceptional role that Geneva plays on the international level, while revealing some of the little-known aspects of multilateral diplomacy. The documents exhibited invite visitors both to understand the place of multilateralism in the functioning of the contemporary international system and start thinking about its evolution and future.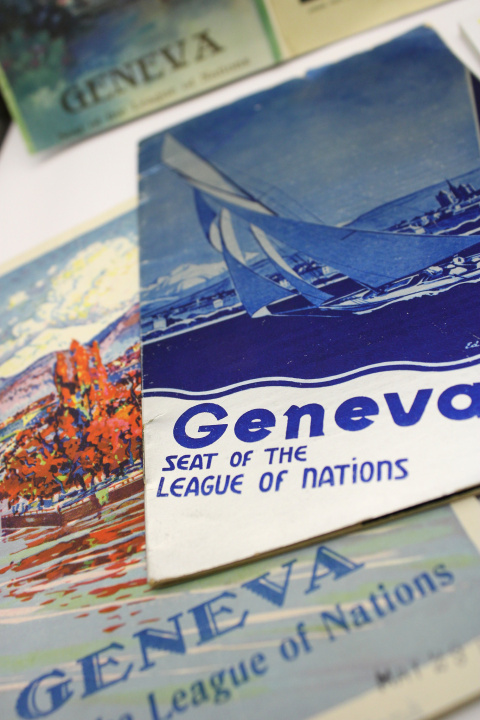 Practical information
The UN Museum Geneva is situated in the Library Building (B), Palais des Nations 8-14, Avenue de la Paix, Geneva (access through the Peace Gate, Visitors entrance). Please read our information on temporary access to the Palais des Nations.

Visits upon written request only for groups of minimum 12 persons.

Free entrance.
Hours of operation: Monday – Friday, 9 a.m. - 5 p.m.
The Museum is closed on Saturdays and Sundays.