Operational update from the Office of the UN Coordinator for the Black sea Grain Initiative, 15 JULY 2023
Press Release
Overview   
Almost one year into the Initiative, a total of 32.8 million tons of grain and foodstuffs has been exported from the three designated Ukrainian ports under the Initiative. Ships made 1,003 voyages from the ports, including 35 that had been stranded since February 2022.   
With decision on renewal approaching on 17 July, there is only one vessel remaining under the Initiative; the vessel TQ SAMSUN is loading cargo in Odesa port. The Joint Coordination Centre (JCC), charged with implementing the agreement, has received 29 applications from vessels located in Turkish waters.   
The applications have not been approved by all parties. No new ships have been approved to participate since 27 June.   
Commercial shipping to and from Ukrainian Black Sea ports was halted in February 2022 on safety grounds. The "Initiative for safe transportation of grain and foodstuffs from Ukrainian ports", as originally titled, was signed in July 2022 in Istanbul by the Russian Federation, Türkiye and Ukraine to provide safe passage to merchant vessels via a maritime humanitarian corridor. The United Nations signed as witness and was requested by the parties to facilitate its implementation. The 22 July agreement allows for the export of fertilizer, including ammonia, but none has been shipped under the Initiative.   
Since 29 April, no vessel has been allowed to move to the port of Yuzhny/Pivdennyi, one of the three ports included in the Initiative.   
Key facts and figures one year into the Initiative: https://news.un.org/en/story/2023/07/1138532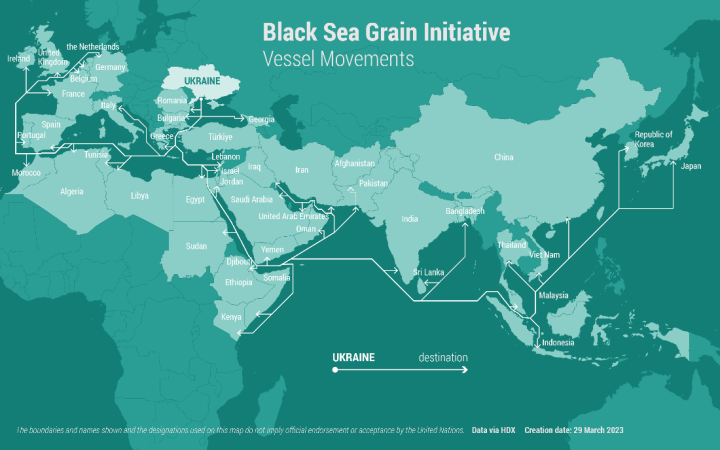 Exports     
Grain and other foodstuffs have been exported to 45 countries in three continents, 46% to Asia, 40% to Western Europe, 12% to Africa and 1% to Eastern Europe. The commodities are corn (51%), wheat (27%), sunflower meal (6%), sunflower oil (5%), barley (4%), rapeseed (3%), and others (4%).
Destinations
Of the two top commodities, 90% of corn and 60% of wheat has been exported under the Initiative to high and upper-middle-income countries; 10% of corn and 40% of wheat has been exported to low and lower-middle-income countries. Compared to the total exports from 2017-2021, the Initiative has delivered the same proportion to low-income countries as Ukraine's previous trading patterns, but a higher proportion to high or upper-middle-income countries.
Destination  

Wheat  
(per cent share of exports) 

Corn 
(per cent share of exports) 
 

(World Bank classification) 

2017-2021 

BSGI 2022-23 

2017-2021 

BSGI 2022-23 

High income  

12 

38 

50 

49 

Upper-middle-income  

29 

19 

28 

42 

Lower-middle-income  

54 

34 

22 

10 

Low income  

6 

9 

0 

0 
 
Notes: 2017-2021 covers all Ukraine's exports by any route according to UN COMTRADE data; the Black Sea Initiative exports are recorded by JCC only from the three ports. Wheat is commodity code 1001, corn 1005.  Totals may not be 100 due to rounding.  
Humanitarian shipments   
 
As of July 2023, the United Nations World Food Programme (WFP) so far procured 80 per cent of this year's purchases of wheat grain from Ukraine via the Initiative, up from 50 per cent in 2021 and 2022. Since the beginning of the Initiative in July 2022, WFP shipped a total of 725,167 tons of wheat to help relieve hunger in Afghanistan, Djibouti, Ethiopia, Kenya, Somalia, Sudan, and Yemen. WFP's chief economist discussed the Initiative in this video: https://youtu.be/iRpG2L9Ol_U        
Fertilizers, including ammonia    
The Initiative also provides for the export of fertilizer, including ammonia. There have been no such exports so far under the Initiative. Exports of ammonia under the Initiative would depend on the resumption of the ammonia pipeline from Togliatti in Russia to the Ukrainian port of Yuzhny/Pivdennyi. Damage to the pipeline was reported on 5 June, and its status is not known.    
Exports and vessel departures by month   
 

 

Departures by port 

Departure date   

Metric tons 

Chornomorsk 

Odesa 

Yuzhny / Pivdennyi 

August 2022   

1,573,290   

34 

17 

12 

September 2022   

3,913,484   

77 

57 

44 

October 2022   

4,241,809   

76 

53 

51 

November 2022   

2,611,506   

35 

23 

27 

December 2022   

3,740,616   

39 

38 

29 

January 2023   

3,023,926   

25 

27 

26 

February 2023   

3,393,366   

29 

27 

27 

March 2023   

3,933,607   

27 

30 

31 

April 2023   

2,785,455   

23 

22 

19 

May 2023   

1,327,342   

15 

15 

3 

June 2023   

2,020,344   

24 

14 

0 

July 2023 (until 14 July)   

252,905   

5 

2 

0 

Grand Total   

32,817,650   

409 

325 

269 
Detailed breakdowns: https://www.un.org/en/black-sea-grain-initiative/data       
Inspections   
Joint JCC teams inspect all ships on their inbound and outbound voyages. In July 2023, less than one ship inspection per day has been completed. The average time for a completed inspection lengthened from 2 hours and 12 minutes in February (149 inspections) to 4 hours and 12 minutes in July (11 inspections).     
Inspections cleared  
(2023 only) 

Inbound  

Outbound  

Total  

Completed daily average 

2023-Jan  

88  

85  

173  

5.6  

2023-Feb  

71  

78  

149  

5.3  

2023-Mar  

89  

85  

174  

5.6  

2023-Apr  

54  

65  

119  

4.0  

2023-May  

40  

57  

97  

3.1  

2023-Jun  

22  

37  

59  

2.0  

2023-Jul (until 14 July) 

0  

11  

11  

0.8  
More data on vessel movements and inspections: https://www.un.org/en/black-sea-grain-initiative/vessel-movements
Detailed data: https://www.un.org/en/black-sea-grain-initiative/data
For operational inquiries, please write to: ops@jcc-secretariat.org
For media inquiries, please write to: media@jcc-secretariat.org