Relocation of Pass & ID badging services
The final phase of the renovation of the Pregny Pavilion will start next week. To enable these extensive works, the building will be closed to pedestrians from Monday, 5 September 2022 until end of May 2023. These works will have no impact on pedestrians holding a UNOG (blue magnetic) badge, as the turnstiles located in front of the Pregny Accreditation Pavilion will be accessible for entrance and exit.
 During the entire renovation period, please take note of the different locations to obtain access badges to the Palais des Nations: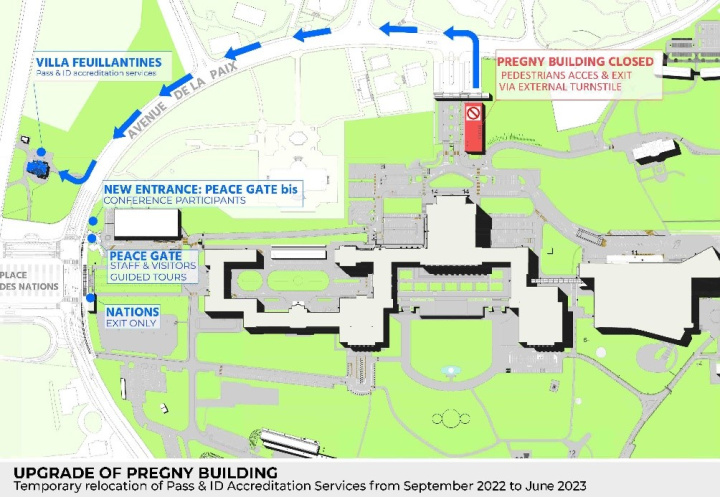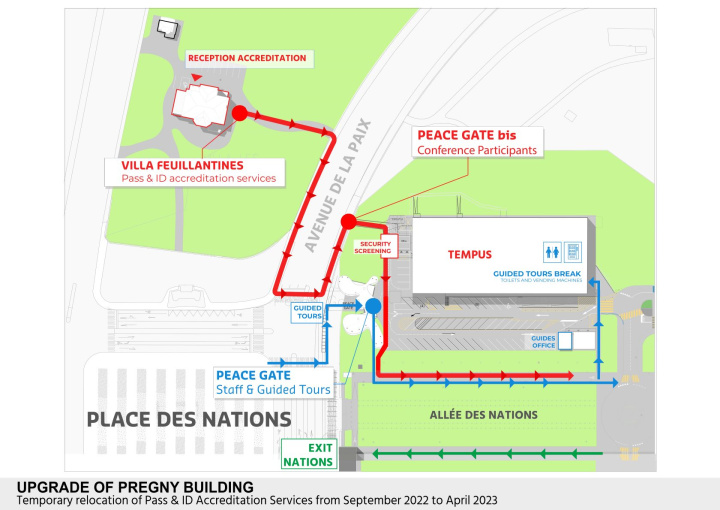 Conference participants, media, NGOs and members of Permanent Missions
Villa Les Feuillantines
Avenue de la Paix 13, 1211 Genève 10
Weekdays from 8 a.m. to 4.45 p.m.
Following issuance of a badge, access to the Palais des Nations will be through the Peace Gate "bis", a new temporary access screening point. Please refer to the following plans above indicating the location of Villa Les Feuillantines and how to access the premises through the Peace Gate "bis".
Staff and family members (badge renewals)
Client Support Center
Building H, 1st floor
On Mondays, Wednesdays and Fridays
from 1 to 4 p.m.
External contractors (daily badge)
Chemin de Fer Gate
Weekdays
from 6 a.m. to 2 p.m.
Visitors for Guided Tours
Peace Gate
Visitors Service desk