International Mother Language Day
Online screening of "Colours of the Alphabet"
19 February
from 12.30 to 2.15 pm (CET)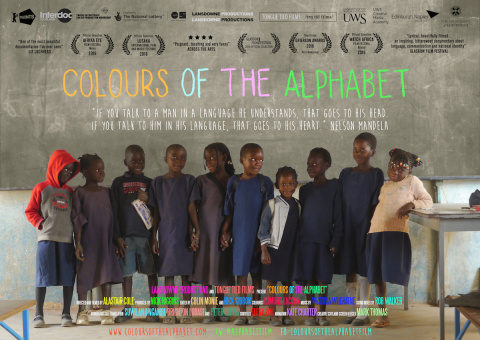 A beautiful, inspiring and bittersweet documentary film about language and childhood in Africa. Steward, Elizabeth and M'barak are three first time school pupils in rural Zambia who struggle to make sense of an educational system where the language they speak at home is different from the language used in the classroom.
Webex Link from 12.30 to 2.15 pm (CET)
Opening remarks by the Director-General of the United Nations Office at Geneva, Ms. Tatiana Valovaya
Introduction by:
Dr. Alastair Cole, film director
Prof. Nick Higgins, film producer
Followed by a Q and A

Master of ceremony:
Ms. Michelle Keating, UN Geneva focal point for multilingualism, Chief of Languages Service, Division of Conference Management
Watch the movie
"Colours of the Alphabet" will be available for streaming on the following links, until midnight 21st February.
Watch with subtitles in:
English
French
Italian
German
Polish
Turkish
Portugese
Spanish
Sardinian

You can also watch with English Audio Description
If you live in Africa, you can watch the movie, in one of 30 languages at:  https://afridocs.net/watch-now/colours-of-the-alphabet
Available in Akan, Amharic, Bemba, English, Ewe, Fula, French, Hausa, Igbo, Kikuyyu, Kinyarwanda, Lingala, Lozi, Luganda, Luo, Magalasy, Moore, Nyanja, Oshiwambo, Portuguese, Tswana, Shona, Soli, Swahili, Tigrinya, Tsonga, Tswana, Wolof, Xhosa, Yoruba, Zulu.
How much do you know about languages?
Test yourself with a 25-question quiz.
Five winners will be selected from among the best scores and win a copy of the Charter of the United Nations signed by the Director-General.
Names of the winners and answers to the quiz will be announced on 22 February.
Take the quiz